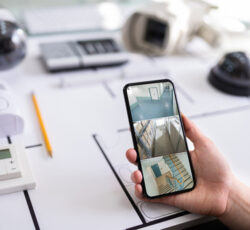 In today's world, maintaining the security of our homes and businesses is of utmost importance. Luckily, advancements in technology have led to the development of sophisticated security systems that offer enhanced protection and peace of mind. In this blog post, we will explore the top 5 security systems for installation, discussing their features and benefits.
1. ADT Pulse:
ADT Pulse is a comprehensive security system that offers a wide range of features to protect your property. It includes 24/7 professional monitoring, remote access and control, video surveillance, and smart home automation. With ADT Pulse, you can monitor your security system through your smartphone, receive real-time alerts, and even control lights, locks, and thermostats from anywhere. This system provides an all-in-one solution for a secure and connected home.
2. SimpliSafe:
SimpliSafe is a popular choice among homeowners due to its simplicity and affordability. This wireless security system offers easy DIY installation without the need for professional assistance. It includes components such as motion sensors, door/window sensors, a siren, and a base station. SimpliSafe also provides professional monitoring, offering 24/7 security coverage. The system can be customized based on your specific needs and expanded with additional devices for comprehensive protection.
3. Ring Alarm:
Ring Alarm is a versatile security system designed for easy installation and integration with other Ring products. It includes a base station, motion detectors, door/window sensors, a keypad, and a range extender for larger properties. The system can be controlled and monitored through the Ring app, which allows you to receive instant alerts and access video footage from Ring cameras. Ring Alarm also offers optional professional monitoring for added security. This system is known for its user-friendly interface and seamless integration with other Ring devices.
4. Vivint Smart Home:
Vivint Smart Home is a comprehensive security system that combines advanced technology with professional monitoring services. It offers a wide range of devices, including door/window sensors, motion detectors, security cameras, smart thermostats, and smart locks. Vivint's security system is seamlessly integrated with its home automation features, allowing you to control and monitor your home from anywhere through the Vivint app. It also provides professional installation to ensure that the system is set up correctly and optimized for your specific needs.
5. Nest Secure:
Nest Secure is a smart security system that offers simplicity and flexibility. It includes a Nest Guard hub, which serves as the central control panel, along with Nest Detect sensors for doors and windows, and Nest Tags for easy arming and disarming. The system can be controlled through the Nest app, allowing you to arm and disarm remotely, receive alerts, and access live video feeds if you have Nest cameras installed. Nest Secure seamlessly integrates with other Nest products, such as smart thermostats and video doorbells, for a complete smart home experience.
Summary:
Investing in a reliable security system is essential for the protection of your home or business. The top 5 security systems mentioned above, including ADT Pulse, SimpliSafe, Ring Alarm, Vivint Smart Home, and Nest Secure, offer various features and benefits to cater to different needs and preferences. Whether you are looking for professional monitoring, DIY installation, home automation integration, or mobile control, there is a security system that can meet your requirements. Choose a system that aligns with your priorities and provides the level of security and convenience you desire!
Need Security Systems in Houston, TX?
Welcome to Western Systems, Inc, in business since 1978 and serving The Houston, TX metro area and the rest of the state ever since! We specialize in the service and installation of alarm systems, fire alarm systems, access control systems, and video surveillance for all commercial and residential buildings. At Western Systems, Inc, we pride ourselves on the quality of the products we use and our customer service. We only use top-quality products that will last a long time. Our surveillance cameras range from six to 64 megapixels to provide you with a wide range to choose from. We can also provide 24-hour service available by request and around-the-clock monitoring. Contact us today to learn more about what we can do for you!